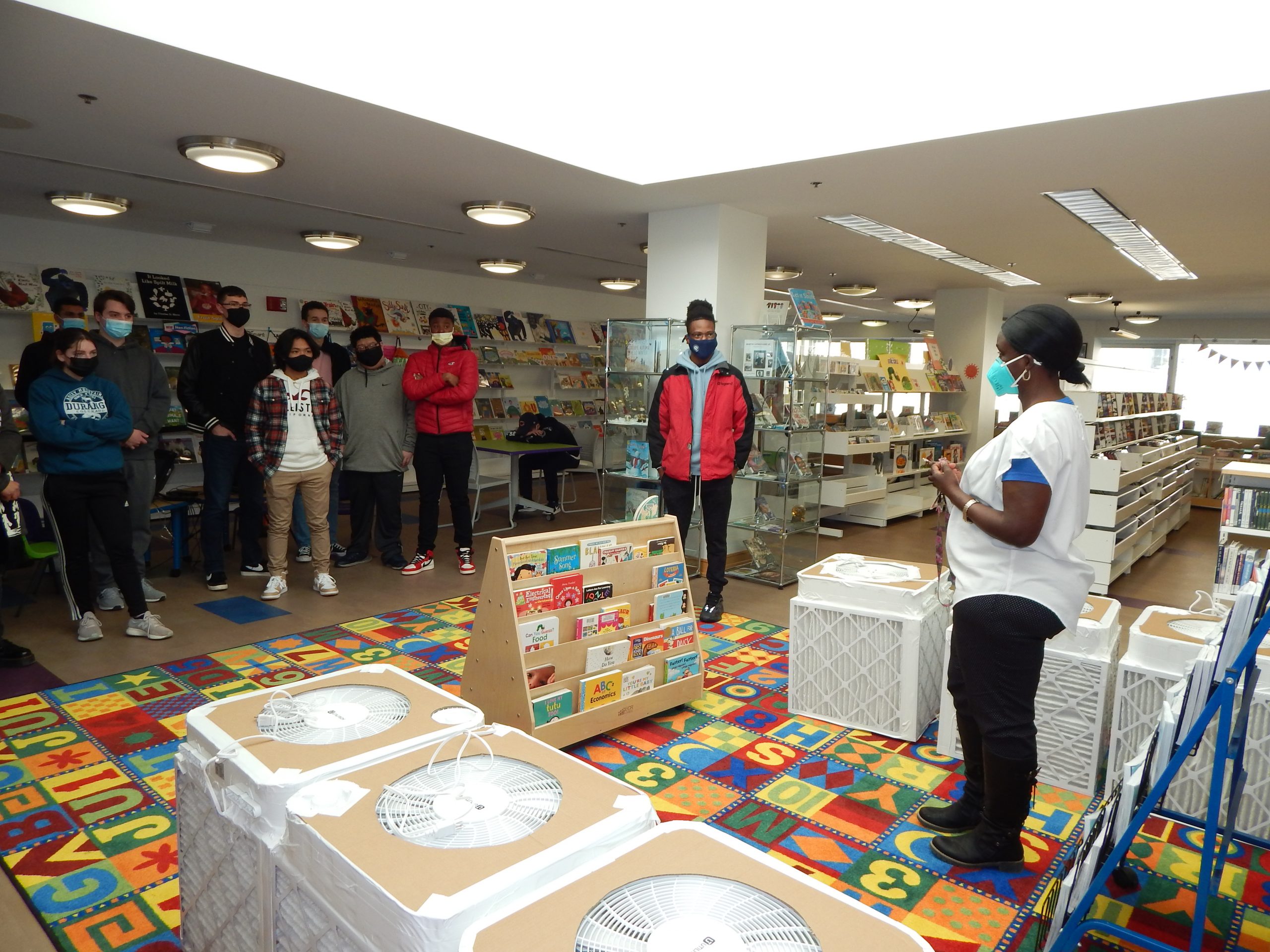 UCONN HARTFORD – Thirty-one students in Professor Adrian Weidmann's ENGR 1166 (Foundations of Engineering) class designed a total of six air filter systems and donated them all to UConn Hartford community partner – and neighbor – the Hartford Public Library. The project was undertaken in conjunction with the Storrs and Avery Point campuses and all filters are being donated to community places local to the individual campus. With a limited number of filters to donate, the class assessed community spaces that receive high numbers of visitors and the Hartford Public Library was an easy decision.
"The Corsi-Rosenthal Box project was an opportunity to not only get into the engineer's mindset but also to help the community by providing indoor spaces with cleaner air" said Michal Pupek, Civil Engineering '24. The project took four weeks to complete and served a dual purpose; the first being, for students to learn about the Engineering Design Process and how to effectively function in multidisciplinary teams. The second purpose was to help address improving air quality in public spaces using a cost-effective method. Before starting the design process, the students spent ample time conducting research on the effects of air pollution and guidance for ventilation systems during the COVID-19 pandemic. Other groups across the university such as UConn health officials have engineered similar air filter systems and donated them to local school districts.
The biggest challenge facing the students was the precision required to build the air filters using minimal materials. The students overcame the challenge by working well together in the group setting and supporting one another throughout the entire build process. Once complete, the filters are easy to install, use, and replace once spent, and have a demonstrated positive impact on indoor air quality. The filters also have variable speeds, so noise levels can be easily managed by the library personnel who will manage them.
"Anybody can be an engineer. You just have to have an open and curious mind, want to solve problems in society, and be tenacious when problems pop up," said Professor Weidmann.
With a second half of a semester still remaining, what will the engineering students do next? "Students will choose to solve a problem for 'life on a Martian colony' – to renewably generate electricity or how to safely explore the Martian landscape," said Professor Weidmann. "The student groups will design, build, and test a wind turbine or a temperature controlled spacesuit helmet."
Shoot for the stars, UConn Hartford. Congratulations to Professor Weidnmann and the engineering students on combining learning objectives with community engagement.